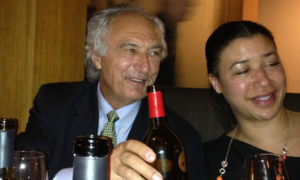 Three numbers—1-9-4—appearing on every Heritance wine label describe its heritage, explained winemaker Bernard Portet to wine writers over dinner at Corduroy in D.C. last Thursday. It marks the efforts of one family's nine generations of winemaking, which now extends to four continents—Europe, North America, South America, and Australia.
Born in the same room as his father and same house as his grandfather in Cognac, France, Portet brought his winemaking tradition to California's Napa Valley in 1968, where he co-founded the prized Clos Du Val winery in 1970 (sold in 2009). His family continues to make still wines that are then distilled into fine Cognac, while his brother makes wine in Australia. Portet's passion for wine drew him out of retirement after just a couple months when he established Heritance wines and also began yet another venture in South America, where he makes Ñandú Malbec in Argentina.
Portet applies what he learned as a boy in Bordeaux, where his father managed the great Grand Cru Chateau-Lafite-Rothschild. He remembers that a focused learning began around age 14 when he and his father began to explore wine cellars around the region. His father schooled him on the complexities of terroir, matching the right grapes to their optimal vineyard sites, and careful blending.
Wine is made to complement food rather than overpower it, he noted, as he described his winemaking philosophy. While many modern winemakers strive to produce explosive flavor, Portet focuses on producing balanced, elegant, and well-structured wines that work extremely well with food. When asked what specific foods to pair, he explained, "Last thing I want to be is really black and white." Ultimately, much depends on what people like, although there are certain principles that help make good matches, such as matching wine and intensities.
Heritance wines and the Ñandú Malbec indeed proved exceptionally food-friendly.
We opened with a 2011 Heritance Sauvignon Blanc, produced with Napa-grown Sauvignon Blanc (88%) blended with the Rhone varietal Roussanne (12%), which Portet sourced from California's Paso Robles. This medium-gold wine aged in stainless steel offered tropical fruit, ripe citrus, and a creamy viscosity. More complex than many other Sauvignon Blanc wines, Portet described it as possessing a beautiful and generous nose along with fresh, crisp, flavor that includes ripe grapefruit and minerality. This matched beautifully with a cold asparagus salad.
Next up was Heritance's beautifully complex and limited production (only 217 cases) 2011 Pinot Noir, produced with grapes from Napa's cool Carneros region and aged in French Oak. This deliciously balanced, bright ruby wine has loads of character, including light, fruity, spicy, and creamy qualities. This wine is available for direct shipping to consumers while supplies last.
Ñandú Malbec offered a gorgeously floral aroma along with rich black fruit from plum and cherry to blueberry. Not explosive but still expressive on the palate, it possesses good concentration and structure (assisted by 2% Cabernet Sauvignon) making it a suitable companion for a wide range of dishes. True to family tradition, one of his daughters designed the label, which includes an image of Argentina's flightless and shy bird—the Ñandú. These birds flee on their feet at the sight of humans, waiving soft and elegant feathers—a symbol of the elegance expressed in this wine.
The final two wines were Heritance Cabernet Sauvignon selections from 2008 and 2010, offering tasters the opportunity to explore different Napa Valley vintages. Older and from a warmer year, the 2008 displayed an impressively soft, deeply fruity and plummy profile that Portet aptly called "feminine." Produced in a cooler year, the 2010, he pointed out, was more rustic and akin to traditional Bordeaux, with a hint of bell pepper, complexity, deep color and deeper black fruit. It will improve over the next several years. Both held their own matched with Wagyu Beef Strip Loin with Rutabaga Gratin.
Highly recommended, all these wines are offered at reasonable prices ranging from $24 to $36 suggested retail. Look for them at Pearson's Wine and Liquors, Dean & Deluca, Cairo Wine and Liquors in D.C. and other retail outlets. You can also try them at Rasika, Ripple, Bistro Bis, and other fine restaurants.
Originally published on Examiner.com.