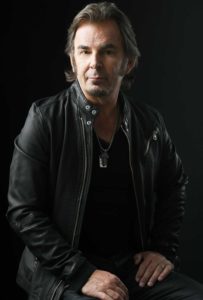 He struck a chord in 1981 with an entire generation of rock fans who now know his iconic intro to Journey's mega hit "Don't Stop Believin'." What for some might be an end it itself, it was somewhat of a beginning for keyboardist Jonathan Cain.
Now 35 years and dozens of albums later, Cain is embracing his many gifts as never before. While he continues to anchor soon-to-be Rock & Roll Hall of Fame inductee Journey's rhythm section and is gearing up for a 2017 tour that will take the band to Asia, he's also deeply committed to a path of self discovery that resulted in his new solo release, What God Wants to Hear. It's the product of a lifetime of experiences and influences for the 66-year-old virtuoso, and an outgrowth of what he sees as a guiding force throughout his life.
Perhaps a most immediate influence was his marriage in 2015 to Paula White, senior pastor of New Destiny Christian Center in Apopka, Fla., and she helped bring out in him something that had been simmering for a number of years.
"Paula and I were working together in church, and we just finished a project we're releasing next year called "Prayer Glory" … sort of cinematic music with prayers she has written over the years," Cain said. "Anyway, I felt something shift when I finished, and God said, 'I have something for you Jon in return for what you've done for me; I'm going to give you something.'"
Cain said it started rather innocently. They were on a cruise ship heading for the Bahamas where White was working a women's conference. "The door opened for me to lead praise for the first time in my life," Cain told Vintage Advice. "So I dragged my piano on there, learned eight songs in a week, and did the crash course on leading praise, and something happened that day."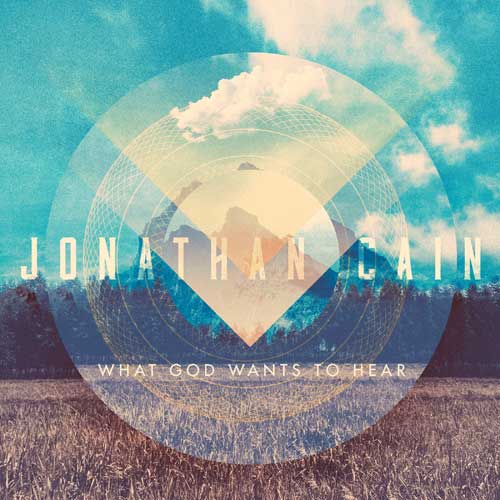 He said he felt a shift—a feeling he wanted to experience again. "I had some kind of supernatural rush come over me," Cain said.
From there, he continued to learn more tunes, led praise at Paula's church, and the title track, "What God Wants to Hear" came to him. "It was my testimonial, and I prayed that I could sing what God wants to hear, and I was trying to build a bridge of confidence with the Lord and the Holy Spirit that I would get it right as a writer, that I would take this on," he said.
It all started to come together. "More songs came, and more lyrics came … all from the word, all from scripture—and then the music would flow on top of that," Cain said, noting that his Journey songwriting starts with the music and then the lyrics come.
"I wanted to build a foundation, to be foundationally correct with the Lord, and I focused on the blood; I focused in on the healing waters and the breath that we share—living the breath of God, the Holy Spirit," he said. Though this became a new avenue of expression for Cain, it still was deeply rooted in an upbringing that emphasized faith.
Youth Influences and Priestly Ambitions
Cain's earliest influence on faith was his father, who taught him to pray.
"I had a breakthrough when I was seven years old before my first communion," Cain said. "I took communion for the first time and there was an anointing, and it rocked me to my soul, so I was like, 'I want to be a priest; I want to do this for you God.'"
At the time, they belonged to a Catholic church in Chicago, Cain describes as a mix of about 6,000 Italian, Polish, and German parishioners, and his father enrolled him in Our Lady of Angels School next door.
On Dec. 1, 1958, a fire broke out at the school that ultimately killed 92 students and three nuns, and it shook Cain's faith to the core.
"I felt like, well, maybe Jesus abandoned … I [said] 'Jesus, you're certainly not going to let this happen—not on your watch'" Cain said. "We're talking what they used to tell us would happen in Hell, and it happened right in from of me next to the house of God."
As a result, his priestly ambitions were set aside. "My father said, 'You were saved from that fire because the Lord has music for you, and you're going to be an anointed songwriter and a mover and shaker musically.'" Cain said.
With that, his father took him to music lessons, and he started on the accordion. "I found redemption through music; I think it saved my soul," Cain said. "It saved me from the bitterness and the sorrow and the questions I had about God, and I soon kind of let that flow out of me."
His first sort of worship, he said, was through Italian songs he had learned, and he also sang in a Gregorian boys choir, which Cain said brought him back to Christ. At 17 he said he was saved in a Baptist church, but he was still a "part-time Christian."
From there Cain said he would go to church, but would then drift away a bit.
Father's Foresight
Cain continued his music pursuits, however, with a solo release in the mid 1970s, and then joined The Babys for two albums beginning in 1980. On the album Union Jacks he co-wrote the hit "Midnight Rendezvous," and then contributed songwriting and performing duties for their follow up album On the Edge later that same year, including a lead vocal performance on "Too Far Gone."
In 1981, Cain went to where most can only dream. He joined Journey on their seventh studio album Escape, replacing keyboardist Gregg Rolie, and the band pretty much reshaped the rock and roll landscape. The band, featuring singer Steve Perry, Neal Schon (lead guitar), Ross Valory (bass), and Steve Smith (drums), along with Rolie, was already filling stadiums, with previous albums Infinity, Evolution, and Departure all having achieved platinum status before Escape. When Cain joined Journey, the band climbed even higher.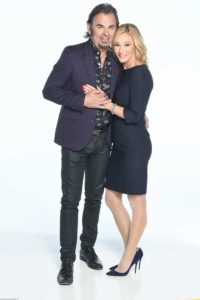 The now universally recognized "Don't Stop Believin'" was only part of the story. The nine-times platinum Escape featured the single hits "Open Arms," "Who's Crying Now," "Stone in Love," and "Still they Ride." In addition, album rock stations often featured other popular cuts from the album, including "Keep on Runnin,'" "Mother, Father," and the title track.
The band got an additional boost when their Escape tour live show in Houston appeared on MTV in the early 1980s as well. Cain noted a rather interesting connection to that experience and the spiritual journey he finds himself in today. The Houston Summit, where the concert was filmed, is now home to Lakewood Church, led by pastor Joel Osteen.
"I told Paula, I [have to] go to Joel's service and get to meet him—because I have yet to meet him … to tell him 'You're on stage where Journey used to be.'"
Since then, it's been a 35-year ride with Journey, along with other projects including as a member of super group Bad English, which included The Babys former front man John Waite, Journey's Schon, drummer Deen Castronovo (who would play drums for Journey from the late 1990s until last year), as well as The Babys former bassist Ricky Phillips.
Journey hits continued as well. Escape follow-up Frontiers is a six-times platinum effort and featured Cain's hit "Faithfully," as well as "Separate Ways," "Send Her My Love," "After the Fall," and "Chain Reaction."
Six subsequent studio albums have followed, including late-80s release Raised on Radio, followed by Trial by Fire in 1996, Arrival (2001), Generations (2005), Revelation (2008), and their most recent studio album Eclipse (2011). Featuring lead singer Arnel Pineda, along with Cain, Valory, Schon, and Castronovo, Eclipse reached No. 13 on the Billboard 200 chart, and includes the single "Anything is Possible."
Evolving Conversion
Cain admits that after all of these career adventures and high points, he was still searching. "I wanted more, and it wasn't until I met Paula who spoke to my spirit and said, 'You know, there's a weightiness you have, and God wants something for you; you're just not stepping up,'" Cain said.
It was on a trip to Africa in which something shifted in him, and he found himself backing up Paula as she prayed. "She went to this South African church, and the guy was horrible on keyboards, and I said … 'let me play—you pray and I'll flow with you,'" Cain said. "We lifted the roof off of that place. … That's really where it started."
He said he had been in a creative place where he was stagnant and didn't know what to do, so he prayed, asking God to show him the way. "So these lyrics start coming—one by one—and before I knew it I had 14 songs done," he said.
Still, Cain said he's not going to be a preacher. "I want people to see Christ in me, and the easiest way for people to see the Christ in me is through music," he said.
Cain continues along other avenues as well. Since 2006 he's worked with winemaker Dennis De La Montanya to raise money for children's charities with music-themed wine offerings under the label Finale Wines. And he also said he hopes What God Wants to Hear is the first of many such offerings in the future.
His Journey journey isn't over by a long shot either. The 2017 tour schedule will take the band to Japan, Hong Kong, South Korea, Singapore, and Taiwan before returning to the states to kick off a spring tour. Lead singer Pineda is joining most of the early-80s lineup of Cain on keyboards, Schon on guitar, Valory on bass, and Smith on drums.
While appearing to come full circle in a lot of ways, he noted that ultimately his perspective is different.
"I don't think I had the awareness of before and the praise and blessing's He's bestowed upon us as a band all these years," Cain said. "I'm just staying humble, and I feel like I've got my daddy back, you know?"