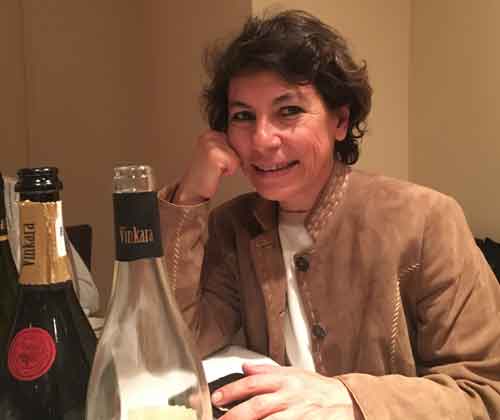 So many great wines of the world were shaped and formed by the pioneering spirits of entrepreneurial women, a trend that started centuries ago and continues today. Founder of Turkey's Vinkara winery, Ardıç Gürsel is a modern-day example, assuming that role for her homeland by making wines that showcase the attributes of her country's indigenous grapes. "It is my absolute pleasure to introduce these outstanding grape varieties to the world," she explains on her website.
I had the pleasure and opportunity to taste her exquisite wines recently while dining at D.C.'s Vidalia restaurant. While many wineries in Turkey focus on making wines with internationally known grapes such as Cabernet Sauvignon and Chardonnay, Gürsel explained at the dinner that her mission is to share the uniquely wonderful grapes indigenous to Turkey. She's already achieving that goal with wine now sold around the world in England, Germany, Austria, Denmark, Canada, and other places including Washington D.C., with a large selection offered at MacArthur Beverage.
With about 1 million liters of production, Vinkara is one the biggest of the small producers in Turkey. Located in the Asian part of Turkey, the vineyards are found in the town Kalecik (northeast of Ankara) near the Kızılırmak River (Turkish for "Red River") on high elevation hills and plateaus. The river and hills provide some moderating influences in this continental climate, which is characterized by cold winters and hot summers. Rain falls mostly in winter, which allows the grapes to develop concentrated flavors by the time they are ready for harvest in the fall.
Gürsel launched her winery in 2003 with the intent of producing world-class wines with indigenous grapes. The tasting demonstrated that she has certainly succeeded in a very short period of time. The wines we tasted included:
2013 Vinkara Yasasin—This Blanc De Noir (which means it was made with a red-skinned grape) sparkling wine is 100 percent Kalecik Karasi, which Gürsel explained is a grandfather of Pinot Noir. Yasasin is not only the first sparkling wine made with this Turkish grape, it's also the first traditional method sparkling wine made in Turkey! Its quality was superb with flavors of ripe apples, citrus, honey, and lots of toasty notes. Perfectly balanced and rich, this delicious sparkler is definitely worth its $40+ price tag.
2014 Vinkara Narince—This medium-plus bodied, unoaked, dry white wine is made with the Narince grape, a name that appropriately translates as "delicate." Indigenous to the Black Sea region, this grape produced a wine that was lightly aromatic with flavors of pear, citrus, flowers, spice, and minerality. Interestingly, the Narince vines also produce grape leaves used in food, but you can't do both with the same vine because the grapes need the leaves to ripen. It can be had for just $12.99 at MacArthur Beverage.
2012 Vinkara Narince, Reserve—This wine offered an excellent balance of oak, fruit, moderate alcohol, and lively acidity. Like a quality white Burgundy, flavors included toast, cream, developed savory notes, and butterscotch. it showed very tasty, developed flavors as well. It sells for a modest price of just $23.99 at MacArthur Beverage.
2013 Vinkara Kalecik Karasi—Related to Pinot Noir, this flavorful red wine offers a light and fruity delicate cherry profile with some spicy notes. It is well suited for those who enjoy the delicate fruit and spicy Pinot Noirs from France's Burgundy region. It retails at MacArthur Beverage for the very affordable price of $12.99.
2012 Vinkara, Kalecik Karasi Reserve—Aged in small oak barrels, this deliciously spicy and toasty wine is light ruby in color. Aromas and flavors include spice, oak, and black fruit. It has some similarities to Pinot Noir, with complexity of both red and black fruit along with toast and vanilla accents. It retails at MacArthur Beverage for $23.99.
2013 Vinkara Winehouse Öküzgözü—This medium-bodied ruby colored wine is produced with Öküzgözü grapes grown at a high-altitude, relatively cool vineyard site that preserves acidity to make a very food-friendly wine. This one offers fresh and juicy flavors of red fruit, spice, and plum, and a delicate and elegant profile. It retails for $19.99 at MacArthur Beverage.
2011 Reserve Boğazkere —This wine offers a rich and complex mixture of aromas and flavors that are reminiscent of a high-quality Bordeaux. Spicy cedar and oak meet black fruit and smoke flavors on the palate. Its grippy tannins and robust profile paired beautifully with the roasted and charred pork chop I enjoyed at this dinner. This wine is an outstanding value for just $25.99 at MacArthur Beverage.
Save
Save