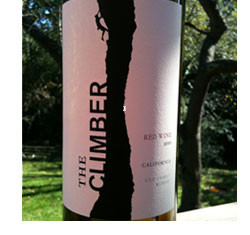 "The Climber," vintage 2010, is an easy-drinking relatively light red wine with delicate flavors of red fruit, particularly bright red cherry along with a touch of tannic grip. Its eye-catching label alone may be enough for many to try this wine. It bears a black silhouette that cuts through the label, which upon close examination one finds an adventurous rock climber scaling the vertical stretches of a cliff. The image visually connects consumers to the wine producer: the Clif Family Winery. Savor it "at the end of a day of off-the-beaten-path adventures," recommends the winemakers.
The Climber consists of a tasty blend of Zinfandel (50 percent) Cabernet Franc (36 percent), Cabernet Sauvignon (5 percent), and Merlot (3 percent). The winery advertises this wine as "sustainable and organic," so perhaps it's appropriate that I find rich garden soil aromas on the nose along with lots of nice rich red berry fruit. This is a commendable everyday wine that should appeal to a wide audience. It's bigger than most Pinot Noir wines but not as heavy as many Napa Valley wines composed of the same grapes. Enjoy it with a wide range of foods, such as pork, and I suspect it would make a nice match with holliday turkey and cranberry trimmings.
A review of the winery website reveals that the Clif Family Winery also specializes in a wine packaged in a smart, sturdy, and environmentally friendly pouch, making it perfectly portable for the adventurer or picnic goer.
Disclosure: I received this wine as a complementary sample.
Originally published on Examiner.com.